Valpolicella derives from Latin, meaning "The Valley of Many Cellars." This valley has been an epicenter of fine winemaking since the Romans conquered it in the 1st Century. Today Valpolicella wines are famous all around the world including the acclaimed Amarone. But great success can inspire mediocrity. When a name becomes famous like Valpolicella, there will be unworthy wines that bear its name. Through the years this has become modus operandi in the region. But Giambattista Ugolini, a native of Valpolicella decided to go in another direction.
Art Of The Single Vineyard Cru In Valpolicella
Valpolicella derives from Latin, meaning "The Valley of Many Cellars." There's no coincidence this area in the Veneto region of Northern Italy traces it's history back to the origins of fine wine craftsmanship. The Romans conquered the area in the 1st Century and developed the valley into a wine utopia. And the ancient cultivation and vinification techniques are still practiced today.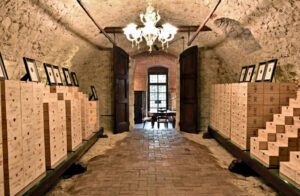 While Valpolicella has become a major commercial center for wine production, the artisan winemaker can be found in tiny pockets. One such emerging estate is owned by the Ugolini Family. Three brothers, Giambattista, Tiziano, and Davide. Giambattista became the visionary and ultimately the operator of the winery.
He was the first "terroirist" in the Valpolicella because he was the first estate to convert to organic farming practices in 1996. At the time it was a revolutionary system. He also made the decision to follow a cru system where each wine comes from a single vineyard plot.
Giambattista believes that we humans are spectators of nature. And we should work to remain in balance with nature. He used ancient agronomic texts to study and observe his vineyards. They are now healthier than they have ever been in their family's history. And the result is the Ugolini Estate is producing some of the finest Amarone and Valpolicella wines in Italy today. Every single one of Tenute Ugolini's fine wines deserves recognition.