Like international varietals, the Montepulciano grape is a victim of industrial production by mass-producers. But not all is failed. Deep in the heart of the Abruzzo region, Emilio Rapino buries his heart in the soil with the roots of quality vines. This small-craft enologist has his own take on Italy's second most-produced varietal. Whatever your opinion is about Montepulciano d'Abruzzo, it will be changed forever.
The Spirit Of Montepulciano d'Abruzzo Is In Good Hands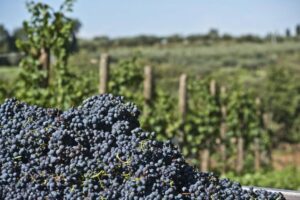 The vinyeards of Cantina Rapino are located in Francavilla al Mare, province of Chieti. The plots enjoy sea-winds from the Adriatic while getting protection from the Apennine Mountains on the opposite side. Abruzzo is considered "the greenest region in Italy." So why not take a trip to enjoy nature, the sea, and the wines?   Owner and enologist, Emilio Rapino, believes in a powerful but controlled full body and aromatic Montepulciano. The winery practices manual farming and low yields to bring you Abruzzese wines with lots of character. Montepulciano wines that you'll never forget! Total bottle production: 25,000 annual.
Cantina Rapino Wines We Carry